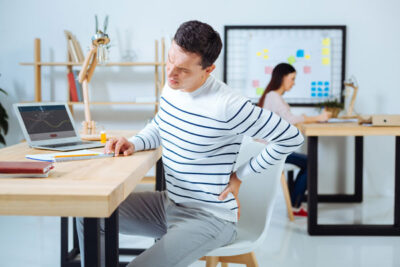 The COVID-19 pandemic has had a huge impact on the way employees are working. Since the start of the outbreak in March, the number of people working from home has increased hugely, from around four to five per cent of employees to 48 per cent, according to research by Ascenti.
The majority of these people will have suddenly found themselves without a properly set up workplace, instead having to throw together a makeshift desk out of whatever they can find in their home, more often than not without a workstation assessment taking place.
This has raised questions about the health and safety of home working and how sitting incorrectly and using a poorly laid out desk has the potential to see an increase in musculoskeletal disorders, such as the neck, shoulder, back, arm and wrist pain.
In fact, healthcare giant BUPA has recently conducted research which showed that 11 million British people have suffered from muscular pain as a result of working from home, with back pain being the most commonly reported problem.
What's more, around with two in five (42 per cent) of home workers are intending to continue working from home when social distancing measures are lifted, which means these problems won't be going away any time soon.
And with 28.2 million working days lost due to work-related illness and workplace injury in 2018/19, what can be done to make sure home-working doesn't see this figure spiral even higher in 2020 and beyond? Ergonomic workstation assessments could be the answer.
DSE workstation assessments take into account the design and layout of an employee's workplace and what their job entails and highlight any issues found that may be detrimental to their health.
When problems are identified, solutions are put forward in an attempt to improve the set-up of the workstation to best reduce the risk of musculoskeletal pain or injury, which can have a hugely detrimental effect on an employee's health and well-being.
When a workforce is pain-free and happy and healthy, there is a decreased risk of both absenteeism and presenteeism, which can also see an increase in efficiency and productivity across the business.
Mental health problems can also impact a person's health and well-being. These issues are becoming increasingly prevalent in today's society and, in fact, the COVID-19 pandemic has seen more than half of adults say their mental health has worsened since the start of the lockdown in March, according to a recent survey by charity MIND.
Restrictions on seeing family and friends, loneliness and worries about health were found to be factors. However, mental health can also be exasperated when people are suffering from physical pain. Therefore, if workstation assessments can reduce the risk of physical ailments, employees may be less likely to suffer from mental health problems too.
At Ergonix we have adapted the way we work during this pandemic to offer remote ergonomic workstation assessments to ensure home workers have access to ongoing support. Services include telephone consultation, self-assessment tools and a more detailed video assessment, which will discuss any problems employees are having and their potential causes, followed by suggested solutions.
We are also offering the Ergonix DSE workstation assessor foundation course to employers, which is accredited by the Chartered Institute of Ergonomics and Human Factors (CIEHF), courses to better equip employers with the knowledge to allow them to become competent DSE workstation assessors and provide their employees with the safest possible workplace.
Ergonomic workstation assessments should be considered a vital part of your company's health and safety policies, keeping the physical and mental well-being of your employees at the forefront which, in turn, can make for a more productive and successful business.
For more information about the services we can offer at Ergonix, call 0207 101 3203 or email [email protected].