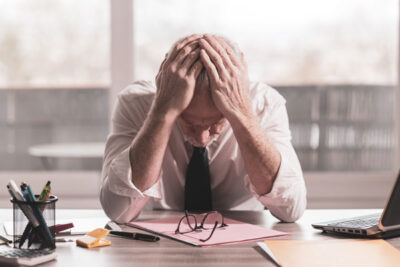 With working from home becoming the new norm for around two-thirds of the population in the last few months, people have had to create a new daily routine. For those now based at home, gone are the daily commutes, designated lunch breaks and office banter. 
Social interaction is suddenly limited – yes, many of us are having video meetings and chats with colleagues, but it's not the same as being in an office full of people with a conversation on demand.
These changes, sometimes without even realising it, can have a huge impact on our mental health, leading to stress, anxiety and even depression. When situations are out of our control, they can wreak havoc on our mental well-being as we adapt to this new way of life.
In a study by the Institute for Employment Studies looking at COVID-19 home worker well-being, half of all respondents reported not being happy with their current work-life balance, a third (33 per cent) frequently feel isolated, over a fifth (21 per cent) are worried about job security, while just under half (41 per cent) harbour health concerns for family members.
Another study showed that a huge 87 per cent of UK workers are currently worried about their health, but also that our livelihoods are a cause for concern too, with almost 70 per cent being concerned about job security.
These worries are having an effect on our mental health, with half of the participants saying their sleep has been affected and that they are not being as active. Around 55 per cent are also feeling lonely.
Here at Ergonix, we recognise the importance of supporting employees' mental health and well-being, just as much as their physical health. That's why we have put together this infographic with our top tips for relieving stress and anxiety when working from home.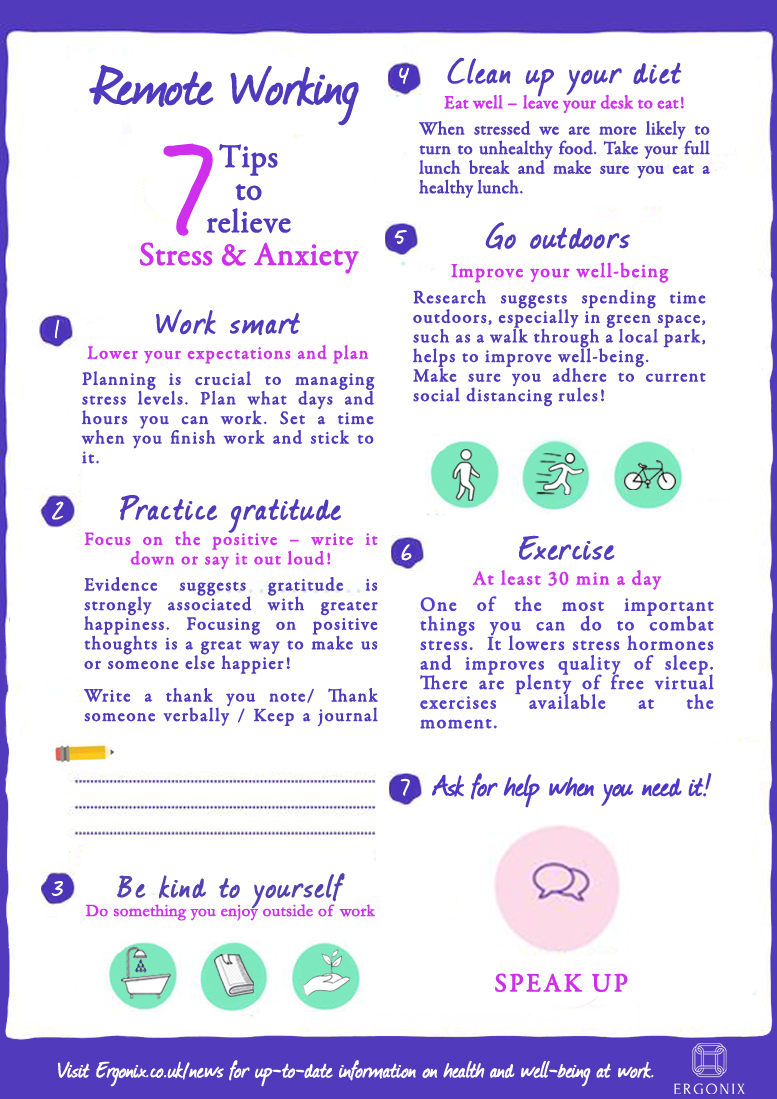 We would also encourage those struggling to visit the Mental Health Foundation and the NHS website for additional advice on how to reduce stress and anxiety.
Because mental health and well-being are so important to us, as well as offering advice to companies about their employees' home-working set-up to help avoid physical health problems, we're now also delighted to be able to provide psychological support for those working from home too.
This brand-new service would give people access to professional telephone or video-based one-to-one support by a registered psychotherapist and counsellor (BACP and NCS registered).
We can support you with a number of issues, including:
Social isolation
Work/home-related stress
Stress affecting work performance
Relationship issues affecting work
Anxiety
Depression
Anger management
Bereavement
Miscarriage
Importantly, we are able to offer support and/or advice to anyone who is in need of talking to a professional during these difficult times.
We understand that this is an unprecedented situation and we have been able to adapt our way of working to provide the kind of support people need at this time. What is important is that no one suffers in silence and we hope that, through our new service, we can help to keep people talking.