The COVID pandemic has seen lots of changes to the way we work and, since we have been encouraged to get back into the office, many organisations have opted to take a 'hybrid working' approach, where their employees can split their time between work and home.
This is a move that has been welcomed by many and could in fact possibly become the new normal way of working going forward.
But with both a home workstation and an office workstation, people run the risk of not having the appropriate equipment at either and taking the 'makeshift' approach, using whatever they have available to set up their desks. This can lead to potential musculoskeletal aches and pains and a subsequent reduction in productivity, an increase in absenteeism and presenteeism as well as lower staff morale.
We have seen a huge increase in the number of people suffering from musculoskeletal problems since working from home. Research carried out by health and safety consultancy firm, Arinite, showed that 37.7 per cent of musculoskeletal cases reported in 2020 were work-related, compared to just 1.42 per cent of workers experiencing these problems in 2019. The research also highlighted that working at a keyboard led to 11.3 per cent of cases – the third biggest cause of work-related musculoskeletal conditions.
Wherever you are working, your employer has a duty of care under the Health and Safety at Work Act 1974 to manage the well-being of all employees.
And, according to the Health and Safety Executive (HSE) "where employers decide to make working from home arrangements permanent, they should explain how to carry out full workstation assessments and provide workers with appropriate equipment and advice on control measures."
This means, if hybrid working has been introduced, all employees may need an ergonomic assessment at both workstations to determine if their work environments are appropriate for their role and that they have the correct display screen equipment to minimise the risk of posture-related ill health.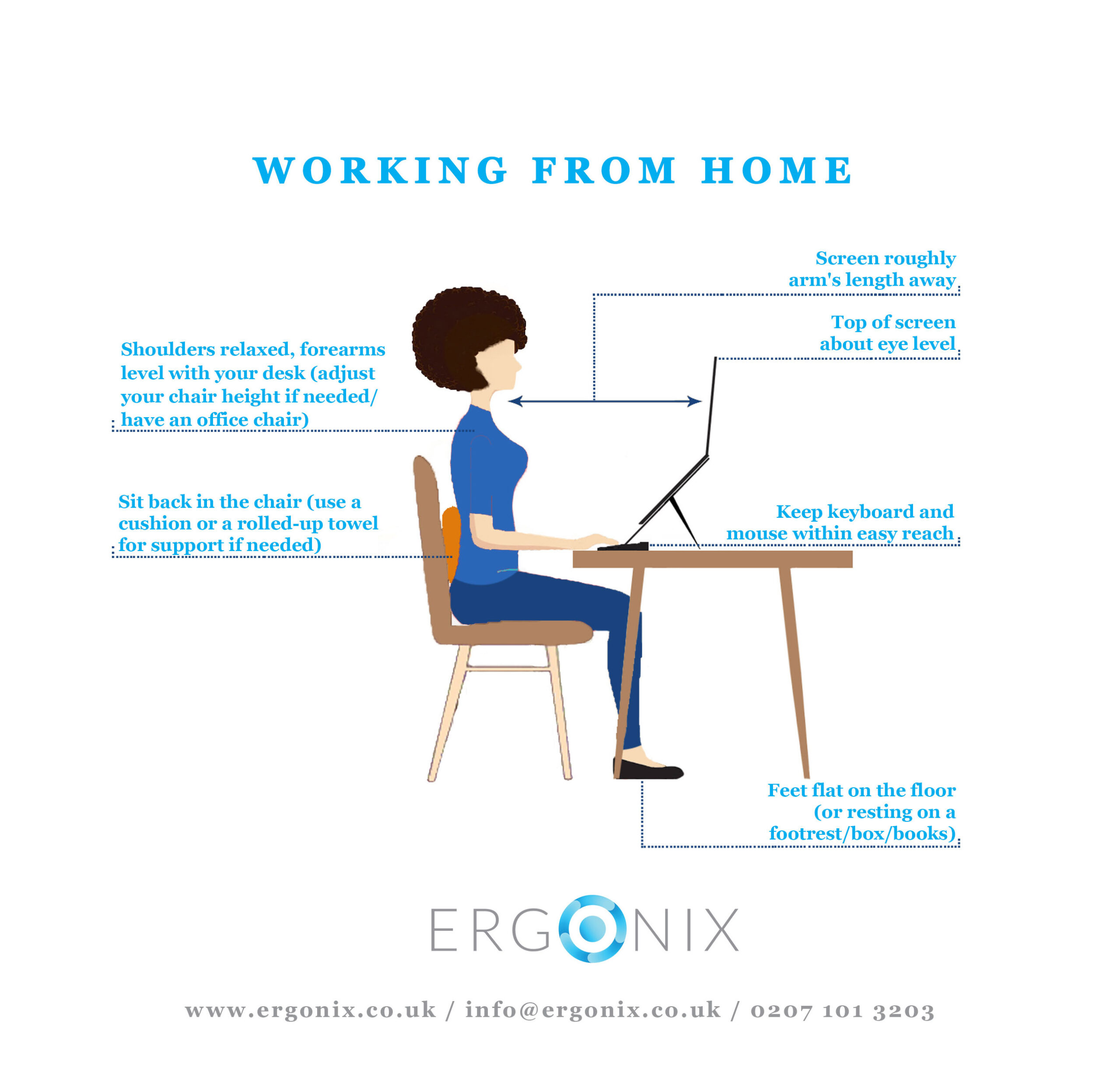 Some of the key principles to consider when looking at your or your employee's workstation set-up include:
Keep the top of your screen at eye level. If you use a laptop, a stand can easily raise the height of your screen.
Use an ergonomic chair that is comfortable and follows the natural curve of your spine (you can use a backrest to help if needed).
Don't overstretch to reach your keyboard or mouse. Your arms should be positioned so that your elbows are at a 90–120-degree angle and in line with your body.
Your legs should be positioned so that you have space between the back of your knees and the chair. Your hips should be at 90-120 degrees with your feet flat on the floor or on a footrest. This creates an optimal sitting position and reduces pressure on the legs and lower back.
You can also have a look at our previous blog which has more information about how to ensure you have the correct posture when working at your desk, as well as a handy infographic to help you.
As well as postural considerations, it's also vital that, in order to keep musculoskeletal aches and pains at bay, you take regular breaks away from your workstation and do regular desk-based stretches to keep your joints and muscles active throughout the day.
Here at Ergonix, we specialise in ergonomic assessments and can visit your office in London, Hertfordshire, or Bedfordshire to determine any workstation issues and what can be done to resolve them. All our assessments are carried out by chartered physiotherapists with specialist training in ergonomics.
We also deliver Chartered Institute of Ergonomics and Human Factors (CIEHF) accredited DSE Workstation Assessor Training Courses, which give delegates knowledge and experience to enable them to become confident and competent DSE assessors themselves.
For more information about our DSE workstation assessments or our DSE assessor course, contact us today.
Useful links: