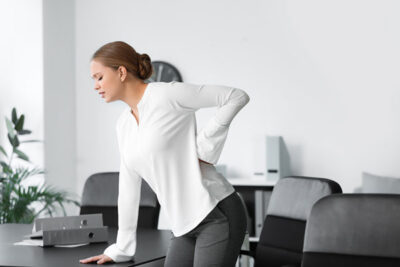 If you ever had low back pain, you are definitely not alone. With an estimated 65 to 80 per cent of the population suffering from this problem during their lifetime, it is one of the most common reasons why people see their GP and is a huge cause of disability worldwide.
Not only that, low back pain can affect many aspects of a person's day-to-day life, including their performance at work, their sleeping habits, and their overall health and well-being.
However, there are many myths and misconceptions surrounding low back pain, which can be detrimental to a sufferer's recovery. That is why we have put together our top five low back pain myth busters, as well as our top five tips on how to avoid suffering from this all too common problem.
Myth: If I have low back pain I should stay in bed and rest.
Fact: Whilst a short rest period can help reduce the pain caused by a recent strain or injury, staying in bed for a long period – more than a day or two – can make it worse. Your joints will stiffen and your pain is likely to increase.
Myth: Moving will increase my back pain.
Fact: It's important to find a balance between letting your pain to settle and keeping active. Try to keep moving as much as you can and moderate your activities by gradually increasing how much you are doing. As your pain settles and the more you move, the more your back will keep it's natural range of movement.
Myth: Pain equals damage – The more back pain I have, the more I damage my spine.
Fact: Pain is complex and it is influenced by many factors such as sleep, psychological well-being, thought, belief and previous pain experiences. The level of pain does not always indicate damage. In fact, the belief that pain equals damage may keep us from being active which, in turn, may slow down recovery.
Recovering from back pain comes with some good and bad days and healthcare professionals can help and guide you through your recovery time. Do contact your GP/physiotherapist if your:
– Pain hasn't improved in the last few weeks and/or stopping you from doing your daily activities
– Pain is severe and/or getting worst
Myth: I need a scan or MRI to diagnose my back pain.
Fact: Sometimes a scan can help with the diagnosis, but most people do not need one. People who don't have low back pain may have changes in their spine and the "abnormality" that may show up on a scan might not be the cause of the pain. Also, pain can be caused by other factors that may not show up on an MRI scan. Therefore, when a scan is indicated, the patient's symptoms and physical examination results need to be considered when interpreting an MRI scan.
After an assessment, if your GP or physiotherapist believes that you do need to have a referral to have further investigation, they will refer you to see a specialist consultant and/or will organise specialist tests for you such as an MRI scan.
Myth: I need an operation to stop my low back pain.
Fact: Only a very small amount of people who suffer from low back pain will require surgery. If it is possible to identify the triggers that cause it and they can manage their pain by keeping active, non-surgical treatments will usually be recommended. By doing this, they should be able to continue with their day-to-day activities without problems.
Surgery will only usually be considered as an option if these conservative treatments, such as pain management, physiotherapy and physical activity, haven't worked and the pain is persistent and debilitating, leaving the patient with limited ability to function day to day.
So how can I reduce the risk of suffering from low back pain?
There are a number of simple ways your can help yourself and reduce the likelihood of experiencing low back pain. These include:
Avoid sitting for long periods – keeping moving helps your joints to stay supple and flexible, reducing the risk of pain..
Check your workstation posture and have regular breaks away from your desk.
Keep active and do regular exercise to keep your muscles strong and flexible.
Eat a nutritious and healthy diet to maintain a healthy weight and avoid additional pressure on your joints and muscles.
Take care when lifting heavy or difficult objects. Take a look at this useful advice from the HSE (Health and Safety Executive) about how to lift safely.
Here at Ergonix, we are specialists in helping to reduce musculoskeletal aches and pains such as low back pain by carrying out Display Screen Equipment (DSE) assessments to ensure you and/or your employees have the correct workstation set-up.
We also offer DSE workstation assessor courses and training to equip you with the knowledge and experience to become a confident and competent DSE assessor.
The training provides you with an understanding of the legal guidelines and regulations relating to DSE assessments. It teaches you to identify physical, mental and environmental hazards and risks within the workplace, giving you the ability to make changes and recommendations that meet the needs of the assessed individual.
For more information about our DSE workstation assessments and DSE assessor training, visit our Contact Us page.